* The shell of our product is more thicker and it uses convex rib process, which is anti-impact / impact-resistant and protects internal structure efficiently.
* Multiple support structure makes the transmission system get a reasonable stress, makes the move more flexible and low failure rate.
* Adopting double ratchets brake system, improved the safety more than two times. the safety factor has been enhanced over twice.
* Our product uses skid proof nut, the security is outstanding.The hook is made of top-end forged alloy material, is much safer.
* It adopts high-strength lifting chain with 80 grades.
* Our product has CE certificates.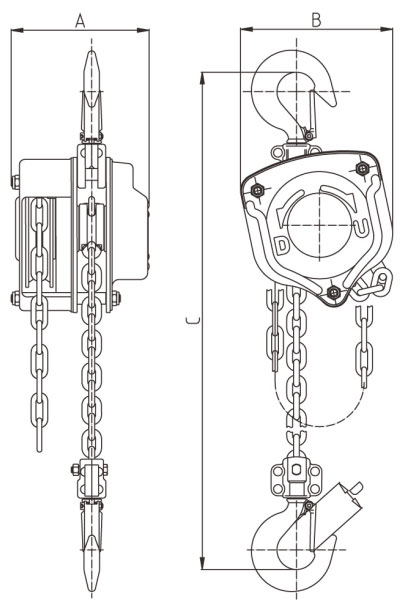 Technical Parameters

Model

DKVT

Capacity(Ton)

0.5

1

2

3

5

10

2

Standard Lifting height (m)

3

3

3

3

3

2

3

Running Test Load (ton)

0.625

1.25

2.5

3.75

6.25

12.5

25

Load Chain Dia.(mm)

Columns

1

1

1

2

2

4

8

Dia

5

6

8

7.1

9

10

10

Effort to Rrquirde to Lift MAX.(n)

231

309

320

360

414

420

42×2

Net Weight(kg)

7

10.5

18

22

40

70

162

Dimension(mm)

A

115

143

152

148

181

181

192

B

136

156

198

182

266

365

630

C

270

317

414

465

636

789

890

D

25

27

36

38

48

57

84

Packing Measurements

22×15×23

22×18×23

28×21×27

32×21×29

40×21×35

54×49×28

64×38×64