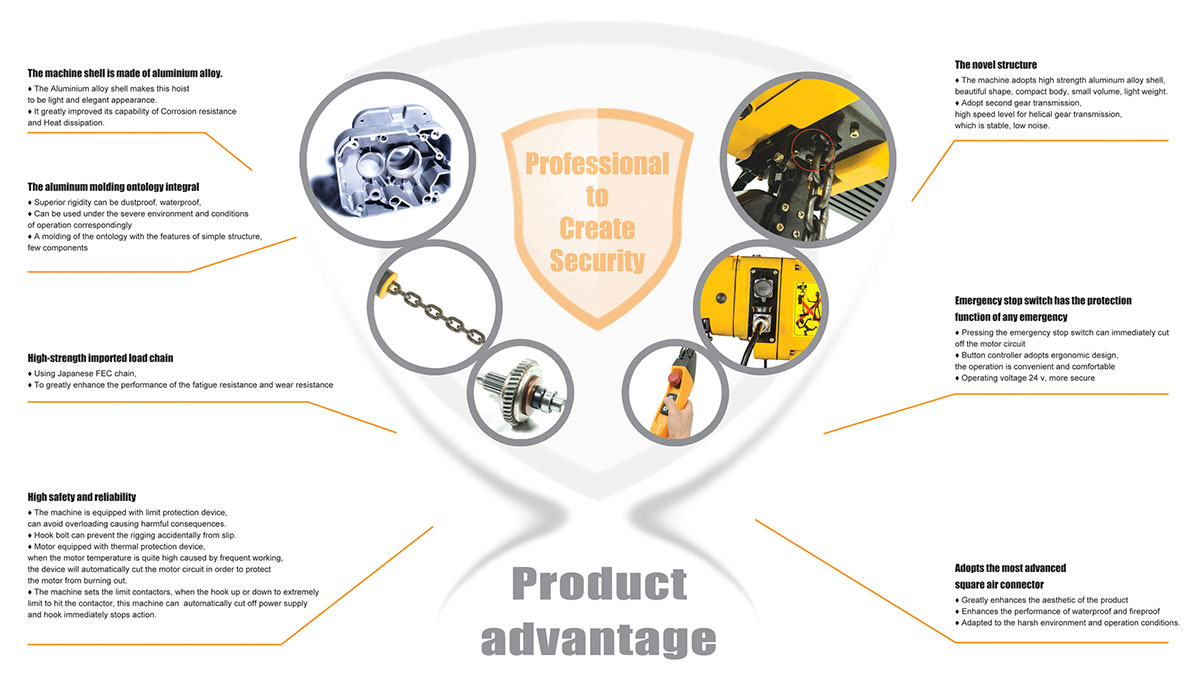 PDH Electric Chain Hoist With Trolley
Product features:
* Working class is M5, can work for a long time. Small, light, compact housing, excellent waterproof and dustproof-lP55.
* Braking system: adopting electro-magnetic brakes to get high precision
* High strength gear material is heat-treated and noise range is 60-65db.
* The hoist adopts FEC80 ultra-treated steel chain.
Technique Parameters

TYPE

PDH-A-0.5

PDH-A-1

PDH-A-2

PDH-A-3

PDH-A-5

Standard Lifting Height (m)

3

Capacity(t)

0.5

1

2

3

5

Lifting Speed (m/min)

7.2

6

3

6

3

Power(Kw)

0.9

1.1

1.1

3

3

Voltage(v)

110-460

Frequency(Hz)

50/60

Chain Falls

1

1

2

1

2

Chain Specification

ϕ6.3x19

ϕ8x24

ϕ8x24

ϕ11.2x34

ϕ11.2x34

Test Load(T)

0.625

1.25

2.5

3.75

6.25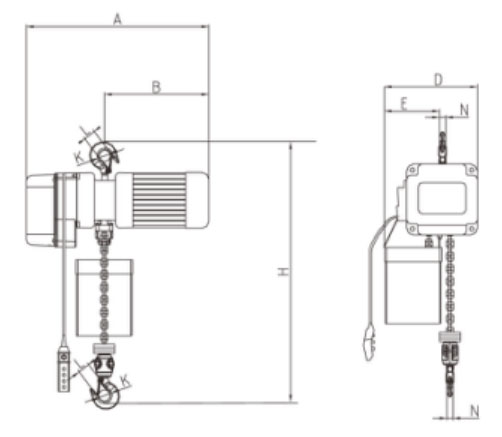 Size Specificatio

Type

Capacity(Ton)

Unit(mm)

H

A

B

D

K

L

N

R

T

P

Q

PDH-A-0.5

0.5

390

595

320

300

Ø40

31

24

142

231

206

111

PDH-A-1

1

400

595

320

300

Ø40

31

24

142

231

206

111

PDH-A-2

2

580

595

320

300

Ø49

35

30

142

231

237

127

PDH-A-3

3

620

785

395

520

Ø59

42

35

142

231

265

140

PDH-A-5

5

860

785

395

580

Ø60

45

43

142

231

296

156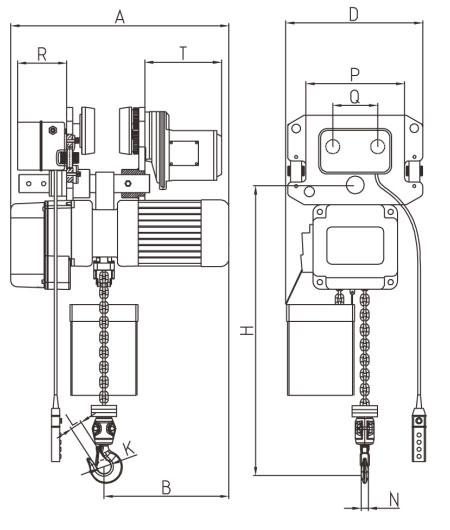 Size Specification

Type

Capacity(Ton)

Unit(mm)

H

A

B

D

K

L

N

R

PDH-A-0.5

0.5

510

595

320

290

240

640

31

24

PDH-A-1

1

520

595

320

290

240

640

31

24

PDH-A-2

2

590

595

320

300

245

649

35

30

PDH-A-3

3

630

785

395

465

295

@59

42

35

PDH-A-5

5

860

785

395

465

360

660

45

43